About Gensinger Volkswagen
Why Buy From Gensinger Motors, Inc.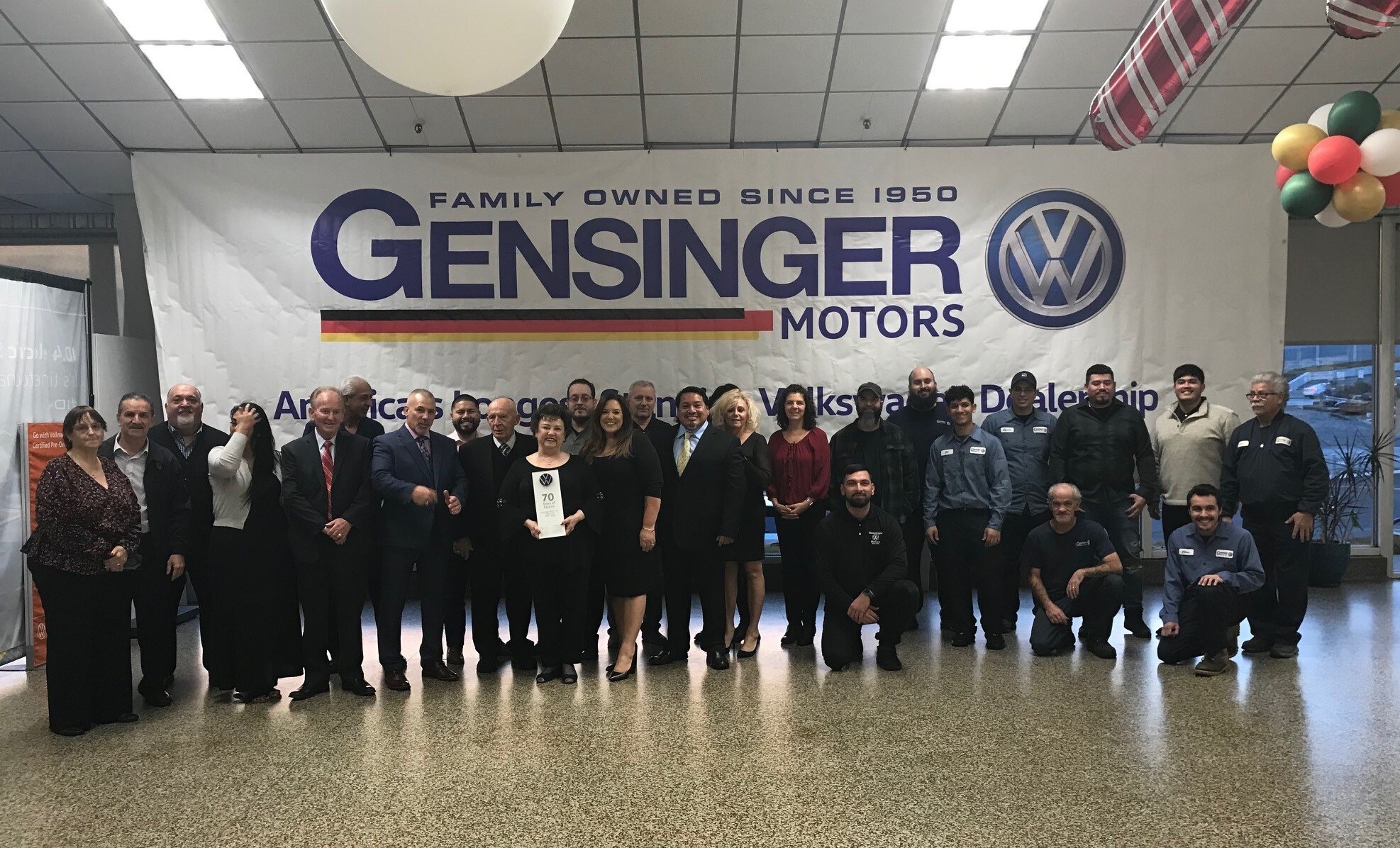 More About Gensinger VW | Clifton, NJ
By Irene Jarosewich
Family-owned businesses that have called Clifton home for three, four, five or even more generations are a hallmark of this town. Richfield Farms, Bartlett's Greenhouses, Montclair Beach Club, Ploch's Farm, Corrado's are among them. Add to that list Gensinger Volkswagen on Valley Rd. now bringing their fourth generation up through the ranks.
Kenneth Gensinger, Sr. was still a teenager when his parents Stephen and Jane decided to open Steve's Garage in 1950. A mechanic by trade, Stephen Gensinger decided to move the family out of Paterson to Clifton and set up shop on Bloomfield Ave. near today's Allwood Circle. The business began as a gas station with a one-bay body shop and service garage where Ken Sr. came to help after school and on weekends, pumping gas, cleaning up before graduating Clifton High School in 1955.
Now patriarch of the Gensinger Motors dealership, it never occurred to Ken Sr. while he was growing up that there might be anything else that he might do other than stick with the family business.
Along with the gas pumps and service bay, the business also sold new cars. Among the cars for sale were Croselys, an American automaker that had a short life span and the French-made Renault.
The car that was the keeper was the Volkswagen. Gensinger sold its first VW Beetle in August 1950. In those days, the price of a basic Beetle was $1,250.
Oldest in USA
Stephen Gensinger ordered his first Volkswagen directly from Max Hoffman, America's legendary importer of foreign cars. Hoffman introduced car-crazy Americans not only to the family man's Volkswagen, but also to luxury brands such as Bentley, Rolls Royce, Mercedes-Benz, as well as European sports cars from Alfa Romeo, Jaguar and Porsche.
Old car buffs will tell you how using his purchasing clout, Hoffman would convince foreign automakers to modify their designs for the different tastes and budgets of the American market, creating such classics as the 1953 Mercedes Benz 300SL and later the Porsche 356 Speedster.
Hoffman, who had the sole franchise for VW in America until the middle of the 1950s, would travel to eastern seaboard states visiting small auto dealerships like the one owned by Stephen Gensinger, making deals with a handshake.
Then he would go down to the docks to greet the ships loaded with autos arriving stateside from Europe.
"I'm not sure if we were the first VW dealership in America, only Hoffman would have known that," underscored Ken Sr., "but now, for sure, we are the oldest.                 
Four siblings come of age
While his father Ken Sr. was growing up in the 1950s, Ken Gensinger, Jr. was a kid during the 1970s, and remembers the sales slump.
Now the general sales manager for Gensinger Motors, he recalls that besides the oil crisis, the other factor that influenced the slowing of VW sales was that while VW balked, the Japanese automakers quickly figured out and provided the bells and whistles that Americans love and wanted in their cars.
"Americans wanted cup holders. We wanted driver's side trunk releases. The German engineers did not understand this," said Ken Jr. "Why would you want to fill up a car with more things that could possibly break? Besides, you shouldn't be driving and drinking coffee anyway. That was their way of thinking.
"Simple, safe, well-engineered transportation, that's all a car should be. But the Japanese designers said safety, sure, but you want convenience, we'll give it. They figured that out about us." 
Within a few years, Volkswagen also figured that out and began to bounce back. The automaker developed new models such as the Jetta and Passat, which are now Gensinger's volume sales leaders, as well as the Rabbit, Golf and Touareg.
By 1965, more than 900 Volkswagen dealerships were doing business nationwide and Gensinger Motors kept up with the wave of VW popularity. The Gensinger family left the original Bloomfield Ave. location for one on Clifton Ave., where today's Boys and Girls Club can be found, and in 1960, broke ground on the current landmark store location on Valley Rd. near the intersection of Route 46 & 3.
The VW Beetle, or even more simply The Bug, was one of the most popular cars in America during the 1960s. According to VW Group of America, the combined sales of the VW Beetle and the VW Van, or The Bus, reached a high in 1970 of more than 500,000 sold in the USA.
However, with the 1973-1974 oil crisis, Asian car manufacturers began to compete in earnest with the fuel-efficient and compact Beetle. By the early 1980s, VW sales dropped to a low of 50,000 annually.            
By 2018, VW plans to refresh existing models and introduce a few new models, such as an all-electric Golf and a 7-passenger SUV. Sales are projected to reach 800,000 in the United States.
Ingredients for Success
Just like their father, the four Gensinger siblings, Michelle, Ken Jr., Cindy, and Laura, were expected to work at the dealership after school and on weekends. There was no way to wiggle out of it.
"I remember Frank, our sales manager, would come by to pick me up after school," giggled Cindy, "I would get out of class and he was already there, waiting." Like their father, the four never thought about working anywhere else and all continue to work at the dealership.
"Sometimes I think people don't understand how lucky we are," said Cindy, "we get to work with our family every day. We are very fortunate. Other people don't see their families for days or weeks at a time. We see each other in the morning, work together, and then go home at night to talk to each other."
"I think what Cindy's trying to say is that there aren't too many families who can work together, eat together, stay together, and not get on each other nerves," added Ken Jr. with a grin.
And while there is the immediate family, the Gensingers consider employees and customers to be their second family. Parents who knew her parents bought their cars here, said Cindy, and then brought their children, who are now bringing their children to buy cars. "They know all about us, our lives and we know all about them."
"As a business, regarding employees, our philosophy is different than most," said Ken Jr. "Let's face it in today's business world, the idea is to cut expenses, bring on less expensive, younger workers, put no value on experience. But we don't see it like that. We all participate in same goal.
"While we invest in our employees, they also invest in us. We're family. And as for customers, VW has told us many, many times that we're one of the few dealers that has a long customer loyalty base. Our customers won't go somewhere else. That's important. How many car dealers do you know get invited to their customer's family events, to their weddings? They trust us. They're a part of our family and we're a part of theirs."
Having a good product is essential for sales success: the VW brand is reliable and well-engineered, each car often driving more than 200,000 miles. However, essential, is not enough. Like father, like son, Ken Sr. is also convinced that superior customer service, treating customers fairly with attention to every detail is one of the key ingredients to the dealership's continued success.
Ken Sr. and his wife Betty, now in their late 70s, still come in to work. "I continue to read every comment," he said "every complaint that we receive and make sure that there's follow-up, that the problem is solved. We are dedicated to our customers, and they understand and appreciate that."                                                      
Ken Sr. is also a loyal customer of his own merchandise, having just bought a new set of wheels, a sleek, low-slung, shiny, and elegant black 2014 CC sports sedan.
Sure, it's good looking and moves fast, points out Ken Sr., but one of the car's signature safety features is the protection against "roof-crush". Although many cars now have protection to prevent rollovers, in the rare event even if the CC sedan were to flip and land on its roof, the weight of the car will not collapse down on the people inside. That frame design and construction to prevent roof-crush, said Ken Sr., is part of the superior safety standards offered by VW, and why customers remain loyal not only to Gensinger Motors, but to the VW brand in general.
Throughout the roller coaster of highs and lows for the past 65 years, the Gensingers have kept the family dealership on track. Like the cars themselves, the business has withstood the test of time.
When his father first started out, besides selling VW, the business serviced all makes of foreign cars. In 1955, Ken Sr. was sent to England for a year to see how some of these European cars were built, an experience that proved invaluable after he returned to work in the shop as a mechanic. He made sure his son Ken Jr. also worked in the shop, experience that, notes Ken Jr., now makes him a better salesperson.
Ken Sr. and Betty, who met in 1957 while he was stationed in Memphis, TN with the Marine Corps, are now watching as three of their 14 grandchildren-Billy, Rachel and Bob come in after school to work in the dealership. "And just like my father, who lived near the dealership, I now do too. I live up the hill, behind the business. He used to cross the street to go to work, I come downhill," said Ken Sr. with a chuckle.
However, the best Gensinger tradition for Ken Sr., is keeping it in the family. "I love to work surrounded by my family. It's a good life, a good way to run the business."                  
Thoughtful Amenities
Whether you are waiting for your vehicle to get serviced, picking up a part for your vehicle, or stopping by to check out a new vehicle for yourself, we offer a wide range of amenities to enhance your experience here! Come by, look around and check what we can offer you!
Welcome to our new website!
We have a strong and committed sales staff with many years of experience satisfying our customers' needs. Feel free to browse our inventory online, request more information about vehicles, set up a test drive or inquire about financing!
If you don't see what you are looking for, click on CarFinder, fill out the form, and we will let you know when vehicles arrive that match your search! Or if you would rather discuss your options with our friendly sales staff, click on Directions for interactive driving directions and other contact information. We look forward to serving you!